New remote operation for Bull winches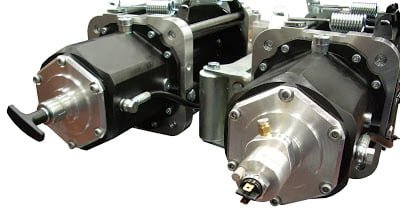 Bezares has developed a new pneumatic clutch to allow remote operation of the Bull winches, adding convenience and efficiency in the operation. As in the traditional mechanical clutch, this pneumatic clutch has 360º adjustable air inlet and electric end of stroke valve that can be incorporated into the control circuit to display correct engagement / disengagement signal, thereby increasing safety at the vehicle's collection operation.
The new pneumatic clutch is included in the Bull + winches with part numbers 9033325 and 9033925. In addition we provide a remote operation kit that can replace the mechanical clutch originally supplied with your Bull winch, by this new solution (part number 9030025).
For pricing and availability, please contact our commercial department.