AVAILABLE NOW – Shaanxi 8JS-105TA
The new two gears side-mounted PTO for Shaanxi 8JS-105TA is now available. Different internal ratios comprising from 55% to 165%. Mounted on the 8 holes opening on the left side of the transmission, this constant mesh PTO with pneumatic shifting offers different output options: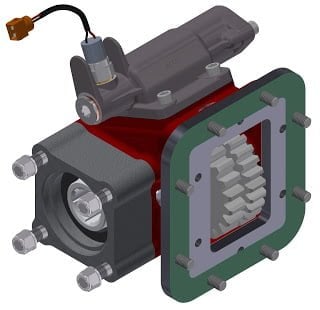 – ISO 4 holes, SAE B, BB SAE … to mount a pump
– SAE 1100/1300/1400, DIN 90/100 drive flanges for coupling with a transmission
It is also possible to order it with mechanical or vacuum single acting actuators.
This new pto increases our range for the Chinese market, reinforcing our expansion in Asian markets and complementing the product line used in different applications.